"Cool Like You" on A&E's The Glades!!
A&E Television featured "Cool Like You" by the Programaddicts (AKA "Cool Like You" by
Jamison Rotz
) in The Glades Season 1 Episode 3 (The Perfect Storm). They Gave a huge spot, front and center for over 2 minutes to the song, making it a great TV spot for The Programaddicts.
View the episode:
aetv.com/the-glades
Download the song at
iTunes
!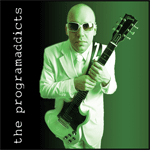 Dance-Metal-Pop-Rock-Tronica
What the hell is that? Well, imagine if you took a computer programmer, locked him in a room and walked away for a year or two. What would you expect to find when you returned? A room full of empty red bull cans and Doritos bags surrounding a bug-eyed recluse who's busily blogging away in between 16 hour "Halo" marathons? Good Guess, but try again. Here's a hint: The computer's stacked with recording software and the room is filled with guitars, vintage synths, samplers, effects, and records by Depeche Mode, Nine Inch Nails, New Order and the Smashing Pumpkins. Getting warmer? Dance? Nope, too many big guitars. Metal? No, too many synth hooks. Pop? Maybe. Rock? Definitely! That's pretty much how it happened, and finally, after years in the making, The Programaddicts unveil the first record! "Technology Baby" brings a unique combination of rock guitars, synth hooks, dance beats and pop melodies that rock the house and make it impossible to sit still. Rock front-man turned solo recording artist Jamison (from previous acts "Soma" and "Carnyce") brings this high energy act to the stage with a relentless onslaught of beats, lights and antics. A one-man phenomenon, this combination of band and DJ performance techniques pins rock rooted vocal and guitar performances against a backdrop of dance beats, synth hooks and effects lighting that brings the house to their feet. You've got to see it and hear it to believe it, so visit www.theprogramaddicts.com to check out the music and find all of the latest dates!